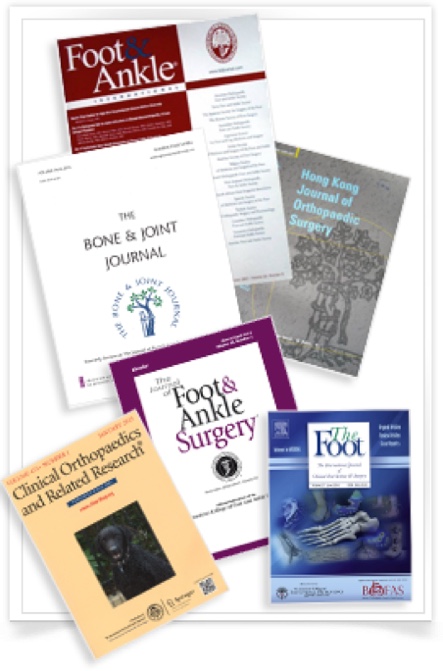 2018 Journal of Foot & Ankle Surgery: Can the Syndesmosis Procedure Prevent Metatarsus Primus Varus and Hallux Valgus Deformity Recurrence? A 5-Year Prospective Study.
Dr. Wu's preeminent publication to date, providing unequivocal evidence that Syndesmosis Bunion Surgery can prevent bunion recurrence.
2018 Journal of Orthopaedics, Trauma and Rehabilitation: Os intermetatarseum may not interfere with metatarsus primus varus deformity correction: A case report.
A common myth among bunion surgeons is finally debunked by the Syndesmosis Procedure.
2018 Journal of Orthopaedics Case Reports: A Case Report of Spontaneous Second Toe Varus Deformity Correction after Hallux Valgus Deformity Correction by a Non-osteotomy Technique: Syndesmosis Procedure.
Proves that everything is connected and demonstrates the power of correcting the root of problem.
2016 JSM Foot and Ankle: A Physiological Soft Tissue Procedure for Hallux Valgus Deformity Correction.
An in-depth analysis and demonstration of the simple, but critical principles behind Syndesmosis Bunion Surgery.
2016 The Foot: Salvaging of a failed Lapidus procedure by the soft tissue osteodesis procedure: A six-year follow-up case report.
Exhibiting a correction surgery (and previously unthinkable feat) made possible by "treating according to pathology."
2015 Journal of Foot & Ankle Surgery: A retrospective study of 63 hallux valgus corrections using the osteodesis procedure.
Syndesmosis Bunion Surgery delivers consistent results thanks to its physiological and minimally-traumatic treatment principles.